For Stress Awareness Month this April, we wanted to see how much work stress was impacting people's lives. While some work stress is unavoidable, when it is persistent and levels become unmanageable, it becomes an issue which can damage both our performance and our health.
We ran a poll on LinkedIn, asking people to rate how often they experience stress at work. The results showed that over 50 per cent of those who responded feel stressed every day, while only six per cent said they never experience work stress.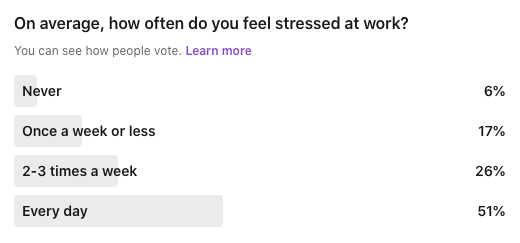 Tips for managing stress
In light of these results, we wanted to share some tips that can help manage stress levels:
Exercise releases endorphins which make you feel happy, so regular physical activity can have significant benefits to your mental health.
Eat well. Eating healthily, including the right amount of fruit and vegetables, and drinking enough water, can help improve your mood and ability to concentrate.
Get enough sleep. Lack of sleep can make you feel tired, groggy, and unhappy. Create a routine that ensures you get enough shut eye. If you're having trouble sleeping, try cutting down on caffeine and screen time before bed.
Take time for yourself. It's important to take time out of your day to relax and do activities you enjoy. Try taking up a new hobby, as learning new skills can help you feel fulfilled and accomplished.
Tell someone how you're feeling. If you're struggling, the best thing you can do is talk to someone – either a friend, family member, colleague, or, if you think you need more support, a professional.
What we're doing
At Elkins, we take mental health very seriously and aim to provide as much support as we can to ensure our staff stay physically and mentally healthy. We have Stress at Work and Employee Wellbeing policies in place, outlining our responsibilities as an employer and the actions we must take, including:
Identifying and controlling workplace stressors using risk assessments;
Providing training to help managers, supervisors and staff support their own mental health and that of others;
Promoting good communication between employees and management;
Providing an open forum for employees to discuss stress in HSEQ committee meetings;
Conducting regular reviews with employees to assess workload, mood, output and motivation;
Investigating any serious cases of stress, behavioural change and workplace absence;
Referring employees to support services where they are being negatively impacted by stress.
We aim to encourage open and honest conversations about mental health in the workplace and have a dedicated Mental Health First Aid team of six staff, who are always on hand to offer advice and point people in the direction of further professional support if required.
During Stress Awareness Month, our MHFA team have been sharing resources with our staff on indicators of stress and how to handle it. We have included a list of these, along with some further helpful advice here:
https://www.elkinsconstruction.co.uk/wp-content/uploads/2023/04/news-elkins-poll-reveals-over-half-of-respondents-experience-work-stress-every-day-apr-2023.jpg
313
846
AEElkins
https://www.elkinsconstruction.co.uk/wp-content/uploads/2021/06/Elkins-construction-logo-RGB-XL.png
AEElkins
2023-04-17 14:08:39
2023-04-17 14:19:14
Elkins' poll reveals over half of respondents experience work stress every day